(On own time and pre-requisite to course)
Movement With A Brain Foundational Neurobiology
Need to Know Neuroanatomy and Theory Part 1 & 2
Adult Learning & Neuroplasticity
Anatomy of a Neuron and Neuroplasticity
Must Know Terms: Nervous System
Directed, intentional, adaptive neuroplasticity: what it means and how to achieve it (Dr. Huberman lecture/interview excerpts)
Resources: Book list, neuroanatomy terms and web links
LIVE (with video and slides you keep and study at own pace)
Live Week 1 **Tackling Business Topics (we will continue to touch upon these topics throughout the course)
Refine: Identifying core values as it relates to life and business
Identifying ideal student/client/class
Explain: How to teach new approaches and strategies for introducing new content
Titrate: How much, when and where to offer new material
Live Week 2 & 3 **Foundations of teaching movement: Cue
Internal cueing: verbal
external: verbal and visual
visual imagery cueing
proprioceptive cueing
relevant teaching theory: Ecological and environmental psychology
Gentile's taxonomy of tasks and how to understand regressing and progressing motor teaching/learning through the lens of the nervous system: shapes of movement etc
Live Week 4 **Foundational Skills: Fuel
The nose knows: benefits of nasal breathing
Diaphragm and Phrenic Nerve
Need to know terms: Bohr Effect, Co2 tolerance, Hypocapnia
Buteyko, Wim Hoff and other methods
Integrating: ideas for resistance breathing and increasing Co2 tolerance
Integration: Ladder Breathing (coordinating movement with breath beyond vinyasa)
Banded breath, crocodile breath and lateral rib expansion
Live Week 5 **Nervous System: Architecture
Cranial Nerves
practical application: movement for each cranial nerve such as eye and tongue movement
Spinal Nerves
Move/innervate: neural flossing/mobilization and ELDOA
Live Week 6 & 7 **Foundational Skills: Balance
Theory/Assessment: Rhombergs, Fukuda Step, Single stance and Gait
VOR, VORc, Opposed gaze
Feet First, slide show from my live course
How/where to embed/integrate into classes
Live Week 8 & 9 **Foundational Skills: Coordinate
Theory/Assessment: RAPS, foot tap, finger to nose etc
Infinity Walk (also good for VOR and neck mobility)
Coordination Charts
Burdenko Land (dual tasking)
Stroop Effect (Dual tasking and Cognitive Load)
More in depth cerebellum
Live Week 10 **Foundational Skills: See
Theory/assessment: two visual pathways, visual field test, convergence test
Vergence/Accomodation
Saccades/Pursuits
Gaze Stabilization
Foveal vs Panoramic vision and implications for posture and stress reduction
Live Week 11 & 12 **Foundational Skills: Clarify
Cortical maps and how they degrade and improve
Mapping the Shoulder, spine, pelvis (as examples)
Cueing with light: Laser mobility
Clarifying with sensation: using hands, kinesiotape and topical information for better movement
Arthrokinetic reflex/joint mobilization
Contraction/relaxation maps for improved cortical maps
Week 13 **Gait, posture and reflexes: Affecting Involuntary movement
Cerebellum more in depth
Basal Ganglia
Circuits of movement
PMRF and brain stem
Eye position reflexes
Week 14 **Integration: Stacking, combining and implementing
Neck isometrics with tongue/jaw/eyes
Head positions for SSC with compass lunge and knee mobility
Head isometrics for shoulders
Neuro-informed vinyasa
Beyond Drishti
Additional resources:
Intake Form
Simple Tools for Reset
Your Instructor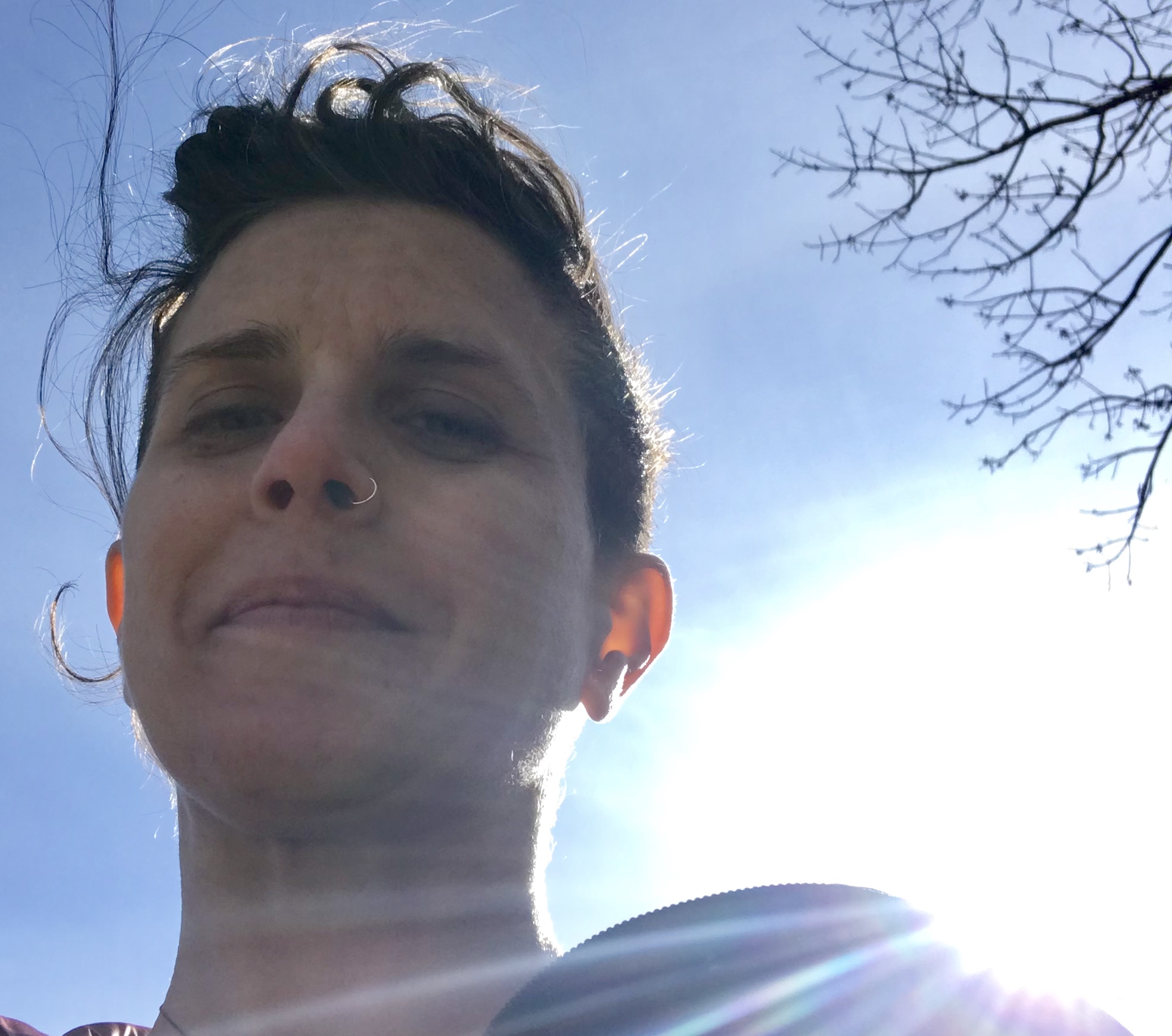 Erin has a degree in art and considers creativity in its many forms to be a core value in her life and work. In addition to writing and making music, teaching and movement have been a mainstay in her life since as a child she taught dance to her stuffed animals. She has been offering yoga & movement instruction and manual therapy to a wide range of ages and abilities since 2004. Teaching a large spectrum of abilities and needs over the years has shaped her ability to adapt, invent and continually seek education for a generous tool box from which to draw. She believes that class content should translate to functional skills applicable to every-day life so we may remain and become strong, mobile, present, balanced and confident to participate in all the activities we enjoy.
In 2014 following the birth of her son and a delve in to modern postural yoga history, she was compelled to pivot away from traditional yoga toward interdisciplinary movement and the burgeoning field of applied neuroscience, rekindling her long-standing love of the brain. She considers it vital to assess and improve the way our nervous system functions because movement output quality and quantity hinges upon how we absorb and process information in the brain. We take in information by way of the inner ear (vestibular system) visual system (coordination and strength of eyes and visual areas of the brain including how vision informs posture, gait, balance and more) and proprioception (sense of body in space), and can make huge gains by training these sensory systems.
In addition to vision and vestibular training, her classes incorporate breathing, joint mobilization, dynamic balance, foot mobility, active stretching, stabilization, coordination, floor work and deliberate rest. She frequently utilizes resistance bands, blankets, socks and balls for both brain-enhancement, play, therapy.
She also offers unique, brain-centered education for yoga and movement teachers looking to expand their knowledge base in a competitive market via online courses and a monthly membership.
Her writing about the business of teaching yoga and challenges of transitioning into other modalities inspired her serialized audiobook podcast The Whole Beautiful.
p.s. Follow Erin on Instagram at Movement Fluency
XO
Course Curriculum
The Low Down
Available in days
days after you enroll
Frequently Asked Questions
When does the course start and finish?
The course starts now and never ends! It is a completely self-paced online course - you decide when you start and when you finish.
How long do I have access to the course?
How does lifetime access sound? After enrolling, you have unlimited access to this course for as long as you like - across any and all devices you own.
What if I am unhappy with the course?
We would never want you to be unhappy! If you are unsatisfied with your purchase, contact us in the first 30 days and we will give you a full refund.